Guests of Yunoshimakan can enjoy not only the baths in their rooms but also large hot spring baths, open-air baths, foot-baths, and family baths.
Yunoshimakan's large baths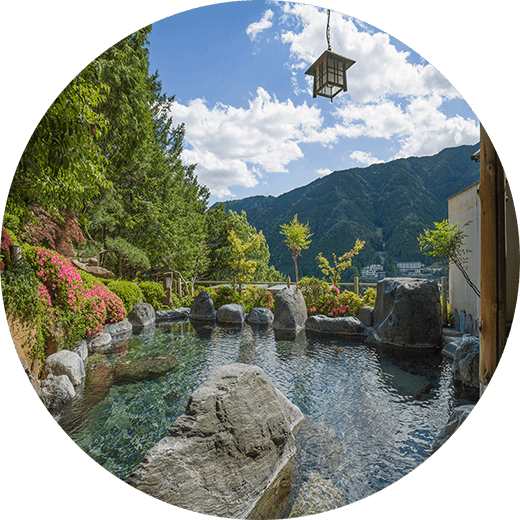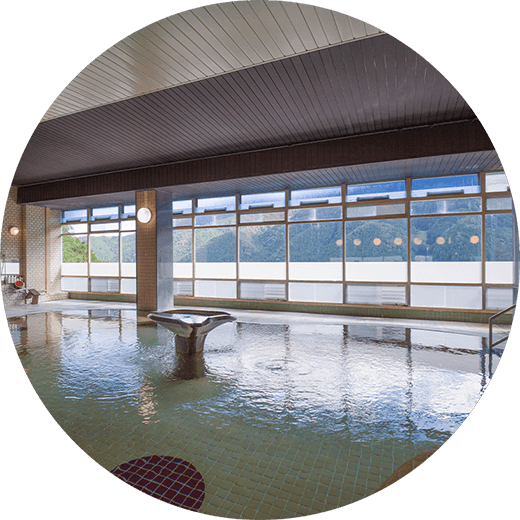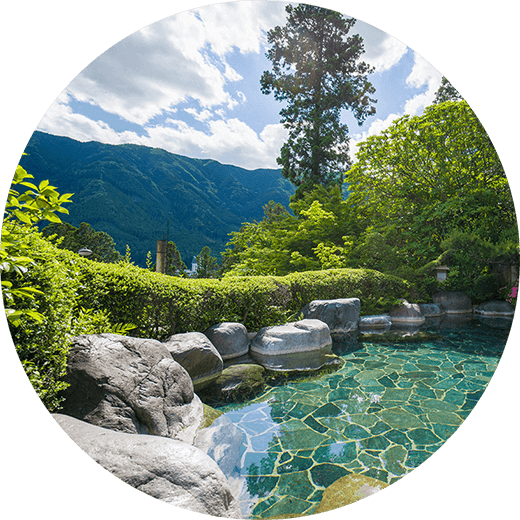 Yunoshimakan has 2 large hot spring baths with an open-air bath attached to each. Guests can enjoy a great view thanks to its location along the mountain slope. Please enjoy a therapeutic hot spring in Gero.
Hot spring baths in the rooms
We use Hot spring water not only in public and family's private baths but also in the shower and baths in the guest rooms.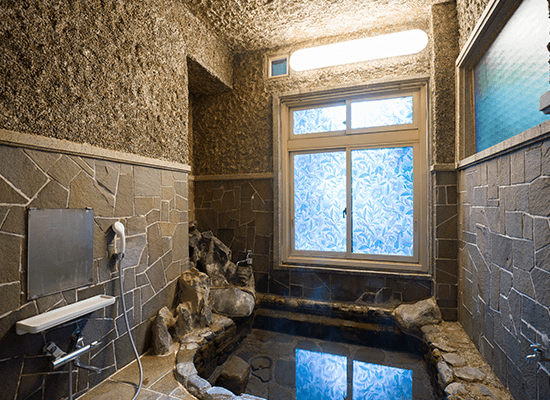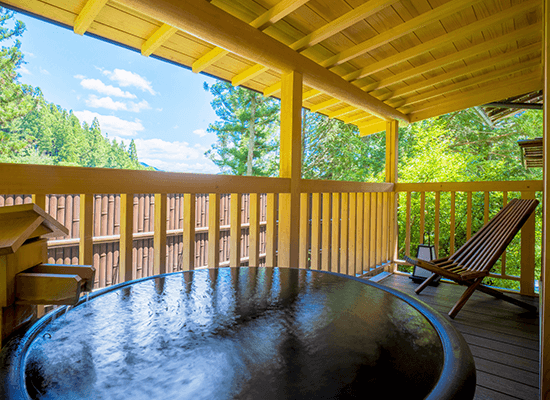 Origin of Gero Onsen
Gero Onsen is said to have originated in the Enki era (901-923 A.D.).
The reason why it is called one of the three most famous hot springs in Japan is because the Confucian scholar Hayashi Razan, who served four shoguns including Tokugawa Ieyasu, said, "There are many hot springs in Japan, but the most famous are Arima, Kusatsu, and Yushima (Gero). Arima and Kusatsu are widely known to the public, but few people know that Yushima has been a sacred hot spring since ancient times. However, those who have taken a bath in Yushima have never failed to have luck.
In fact, the Muromachi period poet priest Banri Shu-ku had already written that Kusatsu, Arima, and Yushima (Gero) were the three most famous springs in Japan, and it is thought that the Confucian scholar Hayashi Razan quoted this description.
At that time, it was still called "Yushima", not "Gero".
Our hotel, located in "Yunoshima," which still remains as the name of the place, has been waiting for your visit as "Yunoshimakan" since 1931.
In any case, the fact that Gero Onsen was located in the mountains, where it was difficult for people to enter, shows that it has been called a famous spring since ancient times.
Spring quality and efficacy
| | |
| --- | --- |
| Source of spring name | Gero Onsen |
| Spring quality | Alkaline, simple hot spring (PH 8.90) |
| Spring temperature | 55 degrees Celsius (Source of spring), 42 degrees Celsius (Location of use) |
| Indications | neuralgia, muscle pain, stiff shoulders, motor paralysis, stiff joints, bruises, sprains, chronic digestive disorders, hemorrhoids, sensitivity to cold, recovery from fatigue, recovery from illness, health promotion |
*The baths in the rooms of Yunoshimakan, including the bathtubs, showers, and sinks, are supplying source of spring.